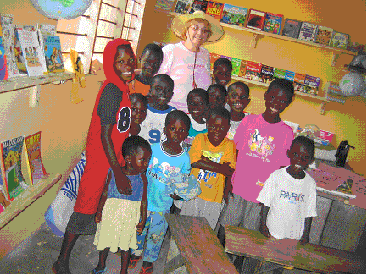 Children of the Ghana Village of Dalive show off new clothes in their New Library which was supplied in large part by Mighty Marla's efforts (This Coffeehouse photo should be replaced soon.)
A CCPJ Member's International Outreach Effort
Granny's "Adopt a Ghana Village" Success
---
Ghana Village Benefit
"Find out how an ordinary local woman was able to adopt a village of 1000 in Ghana
and become Granny to 282 children
This effort is focused on "Mighty Marla's" trip to Ghana in 2005 and her adoption of a school library ... that led to the adoption of the entire school ... that led to her adoption of the entire village.
A benefit is scheduled for
6:00 - 10:00PM
February 18, 2006
Artspace Gallery
555 Asylum Avenue
Hartford, CT
African Food ... African Dancing ... African Drumming
All Donations of children's books, summer clothes, school supplies, medical equipment, stuffed toys, Sunday School clothes, etc. will go directly to the children in the village. Monetary contributions will go toward JSS school fees of $30.00 per child.
Contact:
Marla Ludwig (aka "Mighty Marla," "Backpacking Granny," or "Village Grandmother")
(860)324-0461
Download a flyer for this benefit => here